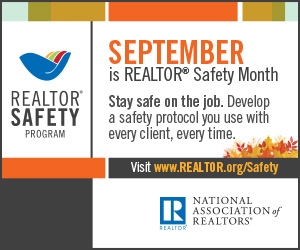 What do all these wonderful REALTORS® listed above have in common? 
They were killed while on "the job".
September is Agent Safety Month, though it really should be on every real estate agent's mind every day.
Each one of the real estate agents listed above had a normal day. They may have grabbed a cup of coffee while they headed into the office, sat in on their office meeting, lined up prospects, signed a listing, and took out prospective buyers. It was just a normal day like any other; until it wasn't.
These agents may have had safety measures in place and I'm sure you do, too. To be on the safe side and since it's Real Estate Safety Month, let's review a few safety measures:
Don't meet a prospect at the listing unless you have done your homework on them. Hand them a list of loan officers you recommend to have them prequalified. It could save you time not showing an unqualified prospect, or it could save your life. If this "prospect" does not want to talk with a loan officer, then they are not worth your time.
"Google" them. Look them up on Facebook. Find them in Public Court Records. In Iowa we have IowaCourtsOnline.com
Meet your new prospects at your office.
Make a copy of their driver's license and car plates. Hand this to someone in your office. When you get back, just put it on their file.
Let someone know where you will be going and your itinerary. Your office or spouse should have some kind of secret code/text with you. Sentrikey Real Estate app has an Agent Safety Tool. If your MLS does not use Sentrikey, your other lockbox company should also have something like that.
Do not drive them in your car. It's coronavirus time – not a good idea anyway.
Do no park your vehicle in the driveway and make sure you're not boxed in on the street.
Let the prospects walk in front of you – always – especially going down steps.
Carry your keys in your hands should you need a weapon.
Carry pepper spray in your pocket, not on your key ring. Your keys could be taken away from you.
Carry a flashlight. I like the Midsize Maglight 3Cell Flashlight. It's about 10" long. It's handy to use in dark areas of the house and it'd do damage if you needed to hit someone with it.
As a Real Estate Agent, don't wear expensive jewelry to a showing or open house. Beverly Carter's killer chose her because he thought she was a "rich" lady. Truly sad.
Here are a few links with more in-depth safety tips:
"The Gift of Fear". "In this empowering book, Gavin de Becker, the man Oprah Winfrey calls the nation's leading expert on violent behavior, shows you how to spot even subtle signs of danger—before it's too late. Shattering the myth that most violent acts are unpredictable, de Becker, whose clients include top Hollywood stars and government agencies, offers specific ways to protect yourself and those you love, including…how to act when approached by a stranger…when you should fear someone close to you…what to do if you are being stalked…how to uncover the source of anonymous threats or phone calls…the biggest mistake you can make with a threatening person…and more. Learn to spot the danger signals others miss. It might just save your life." By Gavin de Becker.
Although we love what we do, it isn't worth risking your life. Stay safe and stay smart.