Don't be busy - Be Productive!!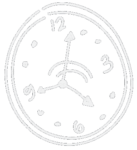 10 (1/2) signs you need Assistance...
Your experiencing "Growing Pains" with your Business and ready for the next step up.
1.5 – You work too long of hours. Your day starts at 6:00 am when the first thing you do is check your emails on your phone – even before you grab that first cup of coffee. Unfortunately, it may not end until 9 – 10 or even past 11 pm when you check your emails for the last time before you close your eyes. The time between these two points are just a blur with contacting clients, setting up listing appointments and drafting offers.


You feel overwhelmed. Real estate can be very overwhelming and there are a lot of details that are to be included in both listing and selling. One phone call or email can eat up hours of precious time and when that fire has been put out, your other fires are still burning.


You are making mistakes. We are human and it's only human to make mistakes. But unavoidable tiny mistake can either cost you a listing, closing or client. If you're rushing through putting together an offer because it's 11:00 at night (after a very long day) and your buyer only has an hour to get it signed electronically, mistakes can happen. But if you're seeing more "little" mistakes, that is a warning you're overwhelmed.


Putting out fires from phone calls and emails is starting to take up most if not all your times and you are not getting anything marked off your "to do" list. (What to do list?)


"To Do" lists are not getting marked off because your "to do's" are not getting done.


There are projects or programs you would like to incorporate into your real estate toolbox but are not sure where to start or how to incorporate them.


When your real estate business is managing you and you are not managing your real estate business.


You're doing E.V.E.R.Y.T.H.I.N.G Y.O.U.R.S.E.L.F!!! Stop it!! It's a waste of your valuable time AND money!!


You're losing clients or prospective clients to another real estate agent.


You're losing family and friends because you are just too busy and never doing something real estate related.
How many hours did you put in this week?